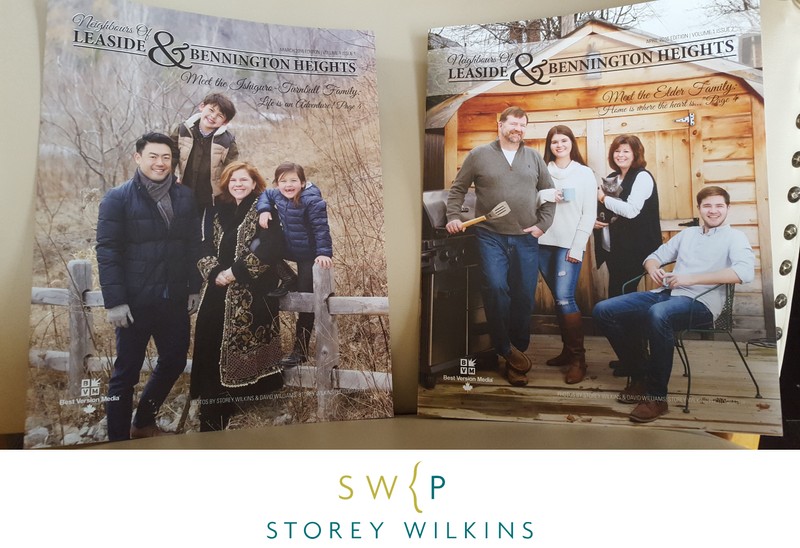 Neighbours of Lawrence Park & Leaside Magazines: Photography by Storey Wilkins
INFORMATION regarding your portrait session for the Neighbours of Leaside & Lawrence Park Magazines
Congratulations on being featured in the magazine! I will be taking your picture for the cover. I am an independent professional photographer with 20 years experience photographing love. I do not get paid for taking the photographs. I do this in exchange for local publicity as I live in the area. My normal fee for this service would be $580.00 plus HST for the session.

Image Selection
3-5 photos will be selected for the magazine. The Best Version Media team (in collaboration with me) will make the selections for the magazine from the collection of pictures. You may be asked to submit some of your own photographs. Please send those to Best Version Media directly.
If you love some of the photographs you are encouraged to buy them for your personal collection. Any prints, digital files or other custom options such as coffee table books and wall art can be purchased from me. No prints or digital files are included for free. Feel free to browse my current products and display ideas.
Process
Book a 30 minute session with me by email or phone.
Prepare the front or your home (general tidy up)
Prepare your family's outfits (plain tops are best and similar colour tones so you don't clash)
Enjoy the session!
Review the gallery of photos that I will send (password protected site) within a week after the session
Optional: Place an order for digital images, prints, wall art, greeting cards, etc.
Copyright
By reading this and consenting to being photographed by me for the Neighbours of Lawrence Park North & South, as well as Leaside & Bennington Heights Magazines, I agree that:
1: Copyright in all images remains with me Storey Wilkins
2: I, Storey Wilkins, may use any image taken on my website (www.storeywilkins.com) or on my social media accounts.
Notes on Clothing and Presentation
Plain tops are best, preferably in similar but not exactly matching colours. Please avoid bold stripes, logos or patterns. Wear comfortable clothing you can bend in easily. If you are unsure, please have a couple of changes handy.
About Me
I am a passionate family portrait photographer. I live in Leaside. For parents, who want professional photographs of their family (including themselves), I will provide heartwarming photographs capturing the very special love in your life, that you can be proud of today and tomorrow, because I have over 20 years of award winning experience photographing love.
I have achieved my Masters of Photographic Arts, judged international print competitions, and have regularly taught other professionals the art of wedding and portrait photography. I am the mother of two amazing girls whose lives I have documented from their earliest days. I cherish those photographs, as I hope you will cherish the photographs I create for your family.
Learn more about my family portraits here.